There's something different at Milestone. There's a dynamic, supportive, high-performance culture that elevates the happiness and success of our team members, partners and customers. This extraordinary environment was created by taking the company's Vision, Mission, FIRST Principles and ONE Milestone Philosophy to heart and putting them to work. We call this The Milestone Way.
Our team members embrace and follow The Milestone Way to deliver exceptional solutions and outstanding service to our customers while enjoying a rewarding career. Contact us today to see what The Milestone Way can do for you.
Our vision is to be the most admired company in the transportation equipment leasing industry by offering a world-class customer experience and providing our team members maximum opportunities for success and job satisfaction.
Our mission is to deliver flexible and diverse transportation equipment solutions and provide world-class service to customers across a wide range of industries in North America.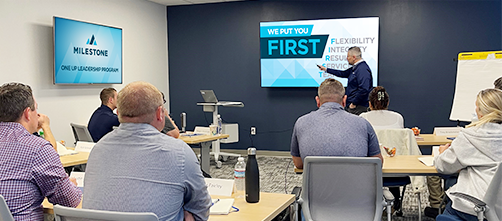 We adhere to a framework of five Milestone FIRST Principles:
We love to develop creative solutions to complex problems with speed and agility.
We always do the right thing and act responsibly, even when no one is looking. We practice mutual respect and believe diversity makes us stronger.
We work hard and strive for continuous improvement. We seek win-win partnerships with all our customers, stakeholders and investors.
We provide a world-class customer experience by empowering team members to make decisions. We give back to our industry and communities.
We invest in our people for their safety, wellness and growth. We have an open-door policy and value the input and ideas of all team members.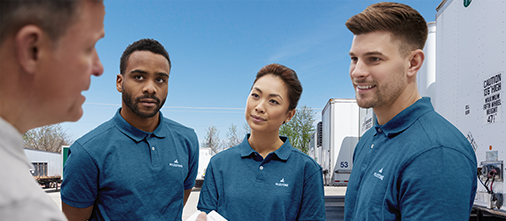 Regardless of job title, every team member is an integral contributor to Milestone's success and our desire to exceed our customers' expectations. Milestone supports our team members in three ways:
We invest in learning and development, challenge team members to grow as individuals, and provide recognition and rewards based on merit.
We provide an outstanding benefits package that promotes the wellness and financial health of our team members and their families.
We encourage team members to think independently and make decisions that benefit our customers and our company, leveraging the full capabilities of our organization.
Move your career up to the best team in the industry
If you're ready to boost your career trajectory, move up to one of the nation's largest transportation equipment leasing companies. Come join an all-star team that's 100% dedicated to going the extra mile.