A leading trailer, chassis and container leasing company with the nation's broadest range of equipment
Offering one of the nation's largest and most diverse lease and rental fleets, Milestone is an innovative, customer-driven equipment leasing company. Milestone team members are industry experts who will work closely with you to understand exactly what your business needs.
We go the extra mile to deliver flexible solutions at an exceptional value that will keep you coming back again and again. Our goal is to provide world-class service unmatched by any other company in our industry.
The best equipment at the best value for every application
Wherever the road, whatever the load, Milestone can help you get there with equipment optimized for the job.

We have the broadest range of dry vans in the industry, from thousands of late-model highway trailers to well-maintained local, cartage and storage options.

Every chassis in our fleet is built to our specs, making them the newest and best equipment available from any chassis leasing company.

We are the largest lessor of 53-foot domestic containers in the country. Our fleet can be leased or rented for year-round or peak service.
We offer flexible solutions that add value and efficiency
Milestone offers fleet services and solutions that help you optimize your fleet size and your operating efficiency.
Milestone has a dynamic, supportive, high-performance culture that elevates the happiness and success of our team members, partners and customers. We call this The Milestone Way.
The Milestone Way delivers exceptional solutions, outstanding service and rewarding careers. See what The Milestone Way can do for you. Learn more >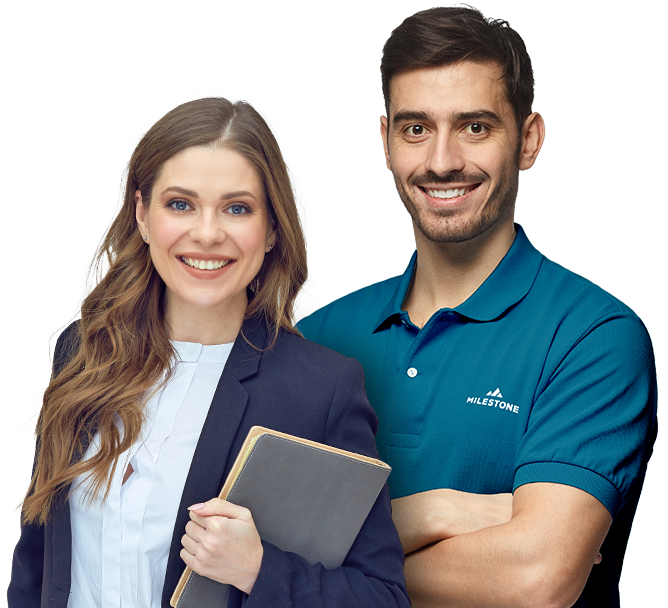 Looking ahead, Milestone continues to invest heavily in our people and equipment to build on the phenomenal growth we have experienced since our founding. Our team works tirelessly to keep our operations and systems current with the most advanced technology, including online tools such as myMilestone and chassisfinder.com.
We have developed a highly scalable business model that will allow Milestone to continue growing our trailer, chassis and container segments. As always, we remain highly committed to delivering the best customer experience in the industry, while providing every Milestone team member the tools they need to succeed. 
Backed by the best in the business
Milestone has substantial financial strength through its relationship with two of the world's most prominent investment and equity firms who have partnered with us to accelerate our strategic growth story.
Move your career up to the best team in the industry
If you're ready to boost your career trajectory, move up to one of the nation's largest transportation equipment leasing companies. Come join an all-star team that's 100% dedicated to going the extra mile.